Sandra Blow
(1925 - 2006)
P899

Height: 50 1/2 in (128 cm)
Width: 50 1/2 in (128 cm)

During the 1950's, Sandra Blow was one of the pioneering abstract painters who introduced into British art a new expressive informality, using cheap, discarded materials, such as saw dust, sack cloth and plaster alongside the more familiar material of paint. A tactile, as well as visual emphasis on the surface resulted in powerful and complex paintings.
PROVENANCE
The Artist's Estate
£34,000
PRINT
ARTIST'S BIOGRAPHY
Sandra Blow (1925 - 2006) was born in London and studied at the St Martins School of Art under Ruskin Spear from 1942 – 1946 and at the Academy in Rome from 1947-1948. In 1961 she won second prize for painting at the John Moores Liverpool exhibition and in the same year began teaching at the Royal College of Art. She has worked in a number of abstract styles, including gestural abstraction and Colour Field Painting, and she has experimented with adding various substances and or objects to the canvas. Sandra Blow considered herself an 'academic abstract painter', primarily concerned with such problems as balance and proportion – 'issues that have been important since art began'. She has exhibited extensively all over the world, notably at The Institute of Contemporary Arts, The Tate Gallery, Camden Arts Centre, Gulbenkian Hall - Royal College of Art, The Hayward Gallery (London), The Royal Institute of Fine Arts (Glasgow), The Tate Gallery St Ives, The Newlyn Art Gallery (Cornwall), Galleria Origine, The Art Foundation (Rome), Palazzo Grassi (Venice), The Art Club (Chicago), Saidenburg Gallery, Albright Knox Gallery, Buffalo (New York), North Carolina Museum of Art, Raleigh (N. Carolina), The Carnegie Institute (Pittsburg), British Council Travelling Exhibitions to Canada, Australia & New Zealand and in The Stedelijk Museum (Amsterdam). In 1995 her international profile was raised still further when she completed a major commission to produce large screens for the Departure Lounge of London's Heathrow Airport. Her work is included in many public collections, including The Museum of Modern Art, New York, The Albright-Knox Gallery - Buffalo, New York (USA), The Felton Bequest, Melbourne (Australia), The Tate Gallery (large work purchase, 1994), The Victoria and Albert Museum, The Fitzwilliam Museum, Cambridge, The Peter Stuyvesant Collection, The Department of The Environment, The Department of Education and Science, Liverpool University, etc. (Great Britain).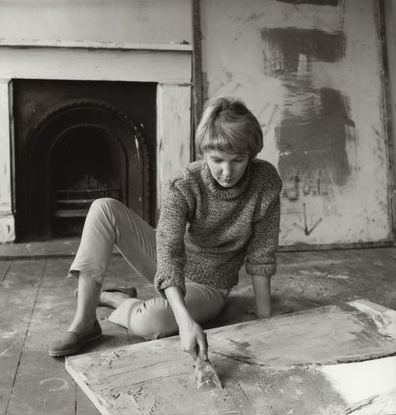 Sandra Blow
Hessian on White, 2006